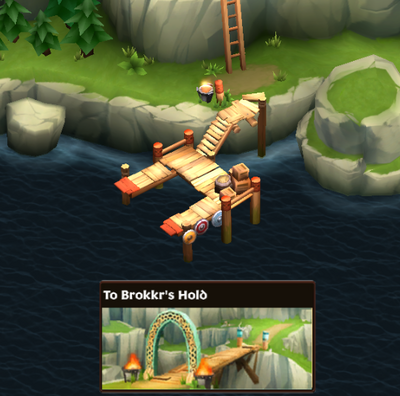 Expanding to
Brokkr's Hold
increases the available space on
Berk
.
(Expanding to Brokkr's Hold is a requirement for completing the Looking Back quest.)
Brokkr's Hold also has the Iron Storage, Gobber's Hut, The Smithy and The Great Forge that can built.
Requirements
Population required: 2,000 Vikings
Cost: 350,000,000

Building time: 5d
Needed Expansion: Berk
Further Expansions: Death's Head, Berserker Island - Section 1 and Dragon's Edge
Obstacles
Brokkr's Hold is unlocked with the following Obstacles:
Sapling x5
Thicket x15
Grove x2
Woodland x1
Forest x1
Coppice x2
Rock x2
Spar x2
Crag x2
Brokkr's Hold
Community content is available under
CC-BY-SA
unless otherwise noted.