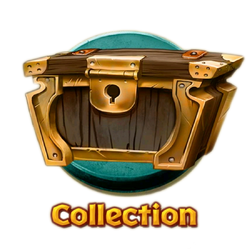 Collections is a new way to obtain

,

,

, Dragons, and Dragon Costumes
Collections were introduced in the update version 1.5.11 of Dragons: Rise of Berk.
Requirements
Upgrade Meade Hall to level 3.

How Collections work
When you send Toothless out on Explorations to Locations where a Collection Item of an active Collection can be found, there is a chance you will receive one or more of that Collection Item.

When you have gathered all the necessary collection items for a specific Collection, you can go into Collections and trade them in for an Exotic or a Defender dragon that is available at the time or to receive

,

or

.

For Legendary Collections see:

For Defender and Exotic Collections see:
Collection Items
Here's a list of some of the items that can be collected (New items are introduced often in updates)
Description
Picture
Rarity
Source
Needed For (Amount)
Gear

Wood
Defend Berk
all Defender Dragons (10 - 19,500)
Apples

Wood
Trader Johann's Ship
1 Defender Dragons (1 - 3)
4 Exotic Dragons (1 - 5)
Brute Dragons (15)
Comb

Wood
Trader Johann's Ship
3 Defender Dragons (1 - 54)
4 Exotic Dragons (1 - 5)
Brute Dragons (15)
Marooned Dragons (28)
Shield

Iron
Trader Johann's Ship
3 Defender Dragons (1 - 12)
4 Exotic Dragons (1 - 5)
Brute Dragons (15)
Potato

Iron
Trader Johann's Ship
4 Defender Dragons (1 - 54)
2 Exotic Dragons (2 - 5)
Green Death (5)
Foreverwing (12)
Seedling Dragons (20)
Purple Death (25)
Marooned Dragons (30)
Shovel

Iron
Trader Johann's Ship
1 Defender Dragons (1 - 3)
3 Exotic Dragons (2 - 30)
Green Death (5)
Foreverwing (12)
Seedling Dragons (20)
Marooned Dragons (30)
Necklace

Iron
Trader Johann's Ship
6 Defender Dragons (1 - 54)
4 Exotic Dragons (2 - 30)
Green Death (5)
Foreverwing (12)
Seedling Dragons (20)
Drago's Bewilderbeast (25)
Starfruits

Iron
Trader Johann's Ship
6 Defender Dragons (1 - 54)
4 Exotic Dragons (2 - 30)
Bewilderbeast (20)
Primal Dragons (20)
Drago's Bewilderbeast (20)
Liberated Dragons (25)
Axehead

Iron
Trader Johann's Ship
3 Defender Dragons (1 - 54)
3 Exotic Dragons (2 - 8)
Bewilderbeast (20)
Primal Dragons (20)
Purple Death (30)
Scroll

Gold
Trader Johann's Ship
3 Defender Dragons (1 - 12)
4 Exotic Dragons (2 - 12)
Bewilderbeast (20)
Primal Dragons (20)
Grim Dragons (30)
Meal

Gold
Trader Johann's Ship
5 Defender Dragons (1 - 30)
8 Exotic Dragons (5 - 20)
Screaming Death (30)
Exiled Dragons (25)
Liberated Dragons (25)
Grim Dragons (35)
Jade

Gold
Trader Johann's Ship
5 Defender Dragons (1 - 30)
7 Exotic Dragons (5 - 25)
Screaming Death (30)
Exiled Dragons (25)
Grim Dragons (32)
Silk

Diamond
Trader Johann's Ship
8 Defender Dragons (1 - 42)
8 Exotic Dragons (5 - 20)
Screaming Death (30)
Exiled Dragons (25)
Purple Death (30)
Ink

Wood
Trader Johann's Ship
3 Defender Dragons (10 - 45)
5 Exotic Dragons (10 - 25)
Corn

Gold
Trader Johann's Ship
3 Defender Dragons (10 - 54)
6 Exotic Dragons (10 - 20)
Liberated Dragons (25)
Dragon Pin

Diamond
Trader Johann's Ship
7 Exotic Dragons (10 - 20)
Drago's Bewilderbeast (25)
Anchor

Wood
- Bashem
- Skullien Isle
- Great West Ocean
Defender Sweet Death (2/6)
Exotic Whispering Death (10)
Banner

Wood
- The Long Beach
- The Little Isles
- Dragon Graveyard
Defender Whispering Death (18/54)
Exotic Foliander (25)
Exotic Grapple Grounder (30)
Foreverwing (50)
Dagger

Wood
- Breakneck Bog
- Ashbone Tundra
- Armorwing Island
Defender Grapple Grounder (1/3)
Defender Sword Stealer (1/3)
Defender Tide Glider (1/3)
Exotic Egg Biter (10)
Hiccup's Insignia

Wood
- Black Heart Bay
- Shivering Shores
- Burned Toe Beach
Defender Whispering Death (14/42)
Exotic Smothering Smokebreath (50)
Exotic Sliquifier (50)
Exotic Buffalord (30)
Drago's Bewilderbeast (50)
Drago's Bullhook

Wood
- Island of Night
- Mani's Teardrop (Alpha Shadow)
- Fireworm Island
Defender Scauldron (15/45)
Exotic Sweet Death (15)
Exotic Shivertooth (15)
Exotic Tide Glider (30)
Bewilderbeast (40)
Horn

Wood
- Icy Wastes
- Sullen Sea
- Trembling Faults
Defender Tide Glider (1/3)
Odin Totem

Wood
- Wild Dragon Cliff
- Shivering Shores
- Perilous Paradise
Defender Sword Stealer (5/15)
Owl Pin

Wood
- Lava-Lout Island
- Meathead Islands
- Badmist Mountains
Defender Gronckle (2/6)
Defender Flightmare (1/3)
Defender Boneknapper (1/3)
Satchel

Wood
- Black Heart Bay
- Island of Night
- Sullen Sea
Defender Typhoomerang (1/3)
Defender Ripwrecker (1/3)
Defender Sword Stealer (1/3)
Defender Thunderclaw (1/3)
Seashell

Wood
- Lava-Lout Island
- Wild Dragon Cliff
- Dagur's Ship
Defender Fireworm Princess (25/75)
Shards
Wood
- Bedrock Bluffs
- Great West Ocean
- Sundering Wastes
None
Shark Tooth

Wood
- Bedrock Bluffs
- Inner Ocean
- Shredstone Walls
Defender Gronckle (2/6)
Defender Deadly Nadder (1/3)
Defender Flightmare (1/3)
Sheath

Wood
- Unlandable Cove
- Black Heart Bay
- Caliban Caves
Defender Rumblehorn (2/6)
Exotic Smothering Smokebreath (15)
Exotic Scauldron (5)
Foreverwing (50)
Starfish

Wood
- Unlandable Cove
- Sundering Wastes
- Drenchwood Forest
Exotic Shockjaw (20)
Exotic Scauldron (10)
Stone

Wood
- Lava-Lout Island
- Meathead Islands
- Isles of Doom
Defender Boneknapper (1/3)
Defender Sword Stealer (5/15)
Vase

Wood
- Sundering Wastes
- Shadow Waters
- Itchy Armpit
Defender Raincutter (1/3)
Viking Totem

Wood
- Unlandable Cove
- Isles of Doom
- The Long Beach
Exotic Whispering Death (15)
Exotic Scauldron (10)
Winged Helmet

Wood
- Dragon's Nest
- Black Heart Bay
- Mani's Teardrop
Defender Hotburple (2/6)
Exotic Foliander (25)
Anchor

Iron
- The Little Isles
- The Woods That Howled
- Breakneck Bog
Exotic Thunderpede (15)
Exotic Cavern Crasher (30)
Banner

Iron
- Badmist Mountains
- Black Heart Bay
- Perilous Paradise
Defender Terrible Terror (12/36)
Green Death (30)
Cartridge

Iron
- Itchy Armpit
- Snarl Haven
- Bellowing Heights
Defender Hobblegrunt (1/3)
Defender Tide Glider (1/3)
Dagger

Iron
- Sullen Sea
- Trembling Faults
- Odin's Grassland
Defender Ripwrecker (1/3)
Exotic Ripwrecker (12)
Double Axe

Iron
- The Woods That Howled
- Itchy Armpit
- Sullen Sea
Defender Hotburple (1/3)
Exotic Budbite (30)
Bewilderbeast (40)
Drago's Bullhook

Iron
- Icicle Vale
- Perilous Paradise
- Trembling Faults
Defender Groncicle (12/36)
Exotic Grapple Grounder (30)
Exotic Sword Stealer (10)
Emblem
Iron
- Badmist Mountains
- Horrendous Point
- Eternitree
None
Gold Pin

Iron
- Wild Dragon Cliff
- Isles of Doom
- Icy Wastes
Defender Hackatoo (10/30)
Hiccup's Insignia

Iron
- Outpost Island
- Mani's Teardrop
- Clattercliff Island
Defender Snafflefang (5/15)
Exotic Razorwhip (1)
Exotic Flightmare (2)
Horn

Iron
- Drenchwood Forest
- The Woods That Howled
- Valhalla Valley
Defender Sliquifier (12/36)
Horned Helmet

Iron
- Eel Island
- The Little Isles
- Dragon Graveyard
Defender Hideous Zippleback (12/36)
Seedling Dragons (25)
Screaming Death (30)
Marooned Dragons (25)
Mug

Iron
- Dragon's Nest
- Badmist Mountains
- Badmist Mountains
- Inner Ocean
Defender Stormcutter (2/6)
Defender Sweet Death (2/6)
Odin Totem

Iron
- Eel Island
- Dragon Graveyard
- Hunter Island
- Odin's Grassland
Defender Windstriker (1/3)
Seedling Dragons (25)
Purple Death (40)
Satchel

Iron
- Badmist Mountains
- Cliff of Eternity
- Perilous Paradise
Defender Thunderclaw (1/3)
Seashell

Iron
- The Long Beach
- Dragon Graveyard
- Valhalla Valley
Defender Changewing (15/45)
Exotic Budbite (25)
Brute Dragons (25)
Shards

Iron
- Icicle Vale
- Windswept Ruin
- Hatchery Hills
Defender Thunderclaw (1/3)
Exotic Sword Stealer (10)
Exotic Speed Stinger (25)
Exotic Coaldron (12)
Shark Tooth
Iron
- Lava-Lout Island
- Cliff of Eternity
- Dagur's Ship
None
Starfish

Iron
- Badmist Mountains
- Sundering Wastes
- Island of Night
Defender Snaptrapper (1/3)
Stone
Iron
- Lava-Lout Island
- Bedrock Bluffs
- Caliban Caves
None
Trap

Iron
- Meathead Islands
- Skullien Isle
Defender Snaptrapper (1/3)
Turtle Shell

Iron
- The Little Isles
- Bloodspilt Bay
- Valhalla Valley
Defender Flightmare (1/3)
Drago's Bewilderbeast (50)
Vase

Iron
- Drenchwood Forest
- Dagur's Ship
- Neverglades
Defender Raincutter (1/3)
Primal Dragons (25)
Viking Totem

Iron
- Eternitree
- Mani's Teardrop (Alpha Shadow)
- Icy Wastes
Defender Thunderpede (5/15)
Exotic Sweet Death (10)
Exotic Shivertooth (10)
Exotic Cavern Crasher (20)
Winged Helmet

Iron
- Wild Dragon Cliff
- Isles of Doom
- Shivering Shores
Defender Shockjaw (2/6)
Anchor

Gold
- Unlandable Cove
- Skullien Isle
- Breakneck Bog
Banner

Gold
- Itchy Armpit
- Breakneck Bog
- Hatchery Hills
Cartridge

Gold
- Icicle Vale
- Hunter Island
- Bog of the Loud Whisper
Dagger

Gold
- Itchy Armpit
- Rough Sands
- Restless Hallows
Double Axe

Gold
- Eel Island
- The Woods That Howled
- Bloodspilt Bay
Green Death (10)
Exiled Dragons (18)
Drago's Bullhook

Gold
- Overcast Island
- Ashbone Tundra
- Dead-End Island
Emblem

Gold
- Outpost Island
- Overcast Island
- Snarl Haven
Gold Pin

Gold
- The Woods That Howled
- Mani's Teardrop (Alpha Shadow)
- Valhalla Valley
Liberated Dragons (20)
Grim Dragons (28)
Hiccup's Insignia

Gold
- Icicle Vale
- Perilous Paradise
- Bog of the Loud Whisper
Horned Helmet

Gold
- Wreck Reef
- Shadow Waters
- Outpost Island
Horn

Gold
- Island of Night
- Bloodspilt Bay
- Dead-End Island
Mug

Gold
- Drenchwood Forest
- Dagur's Ship
- Shadow Waters
Odin Totem

Gold
- Eel Island
- Shivering Shores
- Caliban Caves
Owl Pin

Gold
- Badmist Mountains
- Horrendous Point
- Burned Toe Beach
Satchel

Gold
- Bloodspilt Bay
- Hunter Island
- Hatchery Hills
Primal Dragons (25)
Seashell

Gold
- Rough Sands
- Bellowing Heights
- Triple Stryke Island
Shards

Gold
- Horrendous Point
- Caliban Caves
- Wreck Reef
Shark Tooth

Gold
- Cliff of Eternity
- Sundering Wastes
- Shivering Shores
Sheath

Gold
- Fireworm Island
- Windswept Ruin
- Hatchery Hills
Starfish

Gold
- Inner Ocean
- The Long Beach
- Bloodspilt Bay
Stone

Gold
- Icicle Vale
- Hunter Island
- Hatchery Hills
Exiled Dragons (20)
Trap

Gold
- Raven Point
- Inner Ocean
- Black Heart Bay
Turtle Shell

Gold
- Burned Toe Beach
- Mani's Teardrop (Alpha Shadow)
- Clattercliff Island
Viking Totem

Gold
- Dragon Graveyard
- Wreck Reef
- Eternitree
Banner

Diamond
- Rough Sands
- Windy Pass
- Shrouded Sands
Cartridge

Diamond
- Breakneck Bog
- Bog of the Loud Whisper
- Armorwing Island
Screaming Death (30)
Dagger

Diamond
- Icicle Vale
- Breakneck Bog
- Trembling Faults
Double Axe

Diamond
- Wreck Reef
- Eternitree
- Dead-End Island
Drago's Bullhook

Diamond
- Odin's Grassland
- Neverglades
- Restless Hallows
Horned Helmet

Diamond
- Overcast Island
- Shredstone Walls
- Mani's Teardrop
Mug

Diamond
- The Woods That Howled
- Burned Toe Beach
- Trembling Faults
Owl Pin

Diamond
- Meathead Islands
- Inner Ocean
- Eel Island
- The Little Isles
- Caliban Caves
- Eternitree
Brute Dragons (25)
Seashell

Diamond
- Drenchwood Forest
- Icy Wastes
- Windswept Ruin
Shark Tooth

Diamond
- Windswept Ruin
- Clattercliff Island
- Armorwing Island
Sheath

Diamond
- Dragon's Nest
- Badmist Mountains
- The Woods That Howled
Starfish

Diamond
- Great West Ocean
- Wild Dragon Cliff
- Shadow Waters
Stone

Diamond
- Dagur's Ship
- Ashbone Tundra
- Shredstone Walls
Trap

Diamond
- Horrendous Point
- Mani's Teardrop (Alpha Shadow)
- Mani's Teardrop
Purple Death (50)
Turtle Shell
Diamond
- Great West Ocean
- Cliff of Eternity
- Fireworm Island
None
Vase

Diamond
- Isles of Doom
- The Long Beach
- Fireworm Island
Winged Helmet

Diamond
- Horrendous Point
- Cliff of Eternity
- Valhalla Valley
Igneous Rock

Diamond
- Something Fishy (Quest)
- Next Best Thing (Quest)
- Calm Before the Storm (Quest)
Green Death (3)
Figurehead

Iron
Green Death
Brute Dragons (15)
Broken Sword

Iron
Green Death
Brute Dragons (15)
Fish

Iron
Green Death
Brute Dragons (10)
Green Death

Emblem

Gold
Green Death
The Aftermath (Quest)
Brute Dragons (5)
Green Death Part

Diamond
Green Death
When Needed Most. (Quest)
Brute Dragons (10)
Foreverwing Bells

Diamond
- The Aftermath (Quest)
- Far Gone (Quest)
- Whole Lot More (Quest)
- As the Legend Goes... (Quest)
- Left Behind (Quest)
Foreverwing (5)
Leaf

Iron
Foreverwing
Seedling Dragons (8)
Runes

Iron
Foreverwing
Seedling Dragons (8)
Nest

Gold
Foreverwing
Sleeping Giants (Quest)
Seedling Dragons (3)
Mushroom

Gold
Foreverwing
Seedling Dragons (5)
Yggdrasil Emblem

Gold
Foreverwing
Sleep On it (Quest)
Seedling Dragons (5)
Bewilderbeast Icicle

Diamond
- Sleep On it (Quest)
- A Connection is Made (Quest)
- Next Up (Quest)
- Base Instinct (Quest)
- Trial by Fire (Quest)
Bewilderbeast (5)
Broken Totem

Iron
Bewilderbeast
Primal Dragons (10)
Valka's Shield

Iron
Bewilderbeast
Primal Dragons (10)
Bottle Gourd

Gold
Bewilderbeast
Primal Dragons (10)
Sail

Gold
Bewilderbeast
Fit For a King (Quest)
Primal Dragons (10)
Bewilderbeast

Emblem

Diamond
Bewilderbeast
Placing Trust (Quest)
Primal Dragons (10)
Screaming Death Tooth

Diamond
- Placing Trust (Quest)
- Caught in a Trap (Quest)
- Battle Cry (Quest)
- Get Ready to Sceam (Quest)
- Piercing Scream (Quest)
Screaming Death (5)
Pickaxe

Iron
Screaming Death
Exiled Dragons (40)
Torch

Iron
Screaming Death
Exiled Dragons (40)
Hiccup's Shield

Gold
Screaming Death
Exiled Dragons (15)
Broken Shard

Gold
Screaming Death
Exiled Dragons (15)
Screaming Death

Emblem

Diamond
Screaming Death
Scream Out (Quest)
Exiled Dragons (10)
Drago's Bewilderbeast (5)
Shackles

Iron
Drago's Bewilderbeast
Liberated Dragons (6)
Shoulder Pad

Gold
Drago's Bewilderbeast
Liberated Dragons (3)
Bag

Gold
Drago's Bewilderbeast
Liberated Dragons (3)
Spiked Axe

Diamond
Drago's Bewilderbeast
Liberated Dragons (5)
Purple Death (15)
Coin

Diamond
Drago's Bewilderbeast
Liberated Dragons (2)
Brain Coral

Iron
Purple Death
Marooned Dragons (40)
Outcast Helmet

Gold
Purple Death
Marooned Dragons (15)
Anglerfish

Gold
Purple Death
Marooned Dragons (15)
Sea Urchin

Diamond
Purple Death
Marooned Dragons (10)
Barnacles

Diamond
Purple Death
Marooned Dragons (5)
Dragon Hunter Helmet

Gold
Shellfire
Grim Dragons (10)
Dragon Hunter Hammer

Gold
Shellfire
Grim Dragons (20)
Plasma Charge

Diamond
Shellfire
Grim Dragons (15)
Ryker's Sword

Diamond
Shellfire
Grim Dragons (5)
Ryker's Shoulder Pad

Diamond
Shellfire
Grim Dragons (45)