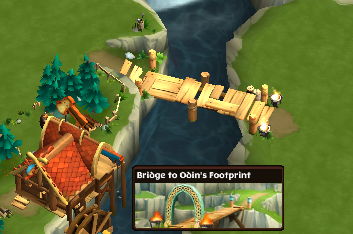 Building the bridge to
Odin's Footprint
increases the available space on
Berk
.
(Building the bridge is a requirement for completing the Gaining an Edge quest.)
Requirements
Population required: 75 Vikings
Cost: 100,000

Building time: 1d
Needed Expansion: Old Forest
Further Expansions: None
Obstacles
Odin's Footprint is unlocked with the following Obstacles:
Thicket x6
Grove x2
Woodland x2
Forest x1
Spar x1
Cluster x1
Boulder x2
Odin's Footprint
Community content is available under
CC-BY-SA
unless otherwise noted.