YOU HAVE ENTERED THE TWILIGHT ZONE!
Hello I'm Queen Clam and Clam came from my OC from the Wings of Fire Fanon wiki. Wings of Fire is a book made by Tui T. Sutherland and is about dragons. My favorite dragons are Tidal Class dragons and one of my favorites is the Desert Wraith and Stormcutter. I am admin on several wikis but are mostly Wings of Fire wikis. I also want to edit a lot on here and have fun because I love Rise of Berk because it's like Farm Ville  and Harvest Moon which I have stopped playing. Down below are the dragons which I own on Berk, Latest updates, Rankings, and classes.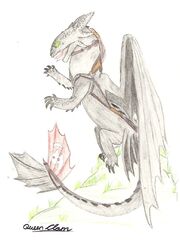 Rankings:
(All my data was somehow deleted so I had to do everything from scratch)
Toothless: Level 45
Meade Hall: Level 9
Vikings: 500
Battle: Defeat Level 65
Arena: 5
Dragons I own
Bork's Honor Guard
Toothless
Gronckle
Monstrous Nightmare
Scauldron
Terrible Terror
Deadly Nadder
Whispering Death
Wave Makers
Lil Lullaby
Defender Thunderdrum
Wavewight
Thunderdrum
Iron Will
Rumblers
Champion Catastrophic Quaken
Defender Snaptrapper
Thunderpede
Stone Grazers
Frozen Flame
The Skeleton Crew
Defender Boneknapper
Boneknapper
Rare Mettle
Wildfire
Fanghook
Firework Princess
Stormcutter
Typhoomerang
Tempered Flame
Stormbringers
Hookfang
Defender Monstrous Nightmare
Stalker
Brute Snaptrapper
Sandbuster
The Unknown
Exotic Scauldron
Boneshedder
Sentinel
Snaptrapper
The Reckoning Force
Pain
Stormfly
Brute Skrill
Tide Glider
Hide & Seekers
Distant Enigma
Rain of Fire
Defender Skrill
Exotic Hackatoo
Rough Riders
Hot Horror
Fire Flock
In All Flames and Sizes
Gothi's Pet
Fangmaster
Hobblegrunt
Double Headers
Ghostly and Ghastly
Slithersong
Cavern Crasher
Smothering Smokebreath
Siren Singers
Thieving Threats
Defender Smothering Smokebreath
Brute Boneknapper
Burning Questions
Defender Flightmare
Edgewing
Sweet Death
Changewing
Bedrock Buddies
Crafty Crafters
Stone Wreckers
Grounded Gruesomes
The Razors Edge
Skywinders
Noble Necks
Hackatoo
Timberjack
Raincutter
Screamers
Circuit Breakers
In Hot Water
Pathfinders
Maverick's pride
Defender Deadly Nadder
Bork Week Nadder
Weird Wings
Range Hunters
Heads or Tails?
Lightning Strikers
Thor's Heroes
Freya's Familiars
Loki's Laughingstock
Barf & Belch
Mildew's Misery
Holiday Heatwave
Fortune Fangs
Baited Breath
Submaripper
Call of Dreadfall
Eerie in Theory
Odin's Gifts
Baldur's Blessings
Cozy Companions
Blossomed Force
Colorful Creatures
Surge of Spring
Community content is available under
CC-BY-SA
unless otherwise noted.